Sad Love Shayari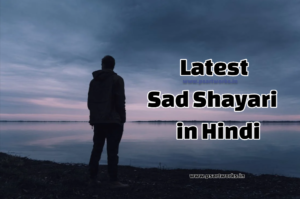 Latest Sad Shayari in Hindi
Khush rahana to hamane bhee
seekh liya tha unake bagair.
Muddat baad unhonne haal
puchake behaal kar diya…
Jaruri nhi har tuta hua insaan
aapako rota hua mile.
Kuchh apani muskaan ke pichhe
laakho dard chhupae rakhate hain…
Kya rog de gayi hai ye naye

mausam ki baarish.

Mujhe yaad aa rahe hain

mujhe bhool jaane vaale…
Hazaaron tukade kiye
usane mere dil ke.
Phir khud hi ro pade har tukade
par apana naam dekhakar…
kitani ajeeb ho gayi hai
zindagee khush.
Dikhana jyaada jaruree
hai khush hone se…
Bahut der kar di tumane meri dhadakane

mahasoos karane mein .

Vo dil neelaam ho gaya jis par

kabhee hukoomat tumhaari thi…
Chalo ab jaane bhi do kya
karoge daastaan sunakar.
Khaamoshi tum samajhoge nhi aur
bayaan hamase hogee nhi…
Daard to tab hota hai jab hamen kisi se .
Pyaar ho aur usake dil mein koi aur ho…
Ab na karoonga apane

dard ko byaan.

Jab dard sahana mujhako hee hai to

tamaasha kyon karana…
Badalate hue logo ke baare mein
aakhir kya kahoon main.
Mainne to apana hi pyaar kisi aur
ka hote dekha hai…
Iraada katl ka tha to mera
sar kalam kar dete.
Kyon ishq mein daal kar toone meri
har saans par maut likh di…
Ho ijaajat to ek baat poochhoon jo hamase.

Ishq seekha tha vo ab kish se karate ho…
Zindagee kuchh dinon kee hai aur.
Main kuchh dinon se pareshaan ho…
Ajeeb see betaabee hai tere bin rah bhi.
Lete hain aur raha bhee nahee jaata…
Tumhaari duniya mein ham jaise hajaaron.

Honge magar meri to duniya hi tum ho…
Tumase ladane ke baad tumhaari.
Yaad aur bhi jyaada aati hai…
Khyaal rakha karo apana kyukee.
Mere paas tumhaare jaisa
koi aur nahin hai…
Suno tum hamen jaan se bhi

pyaare ho kal bhi ham.

Tumhaare the aur aaj bhi

tum hamaare ho…
Mere ghaav pe kuchh aise
namak lagaatee hai vo.
Ishq ki baaten karake
dost bulaati hai vo…
Ek din meri aankhon ne bhee thak kar
mujhase kah diya.
Khvaab vo dekha karo jo pure ho
roj roj hamase bhi roya nahin jaata…
Akelepan ka maja alag hai

mainne khud. .

Ko pa liya teree raah

dekhate dekhate…
Vo lafaz bane hi nhi jo bayaan karen.
Ki mujhe kitanee mohabbat hai tumase…
Bada gajab kiradaar hai mohabbat ka adhuri.
Ho sakatee hai par khatm nhi…
Pata nhi kitana naaraj hai vo mujhase khaab mein.

Bhi milata hai to baat hi nhi karata…
Kuchh mohabbat ka nasha tha pahale hamako.
Dil jo toota to nashe se mohabbat ho gaye…